🔍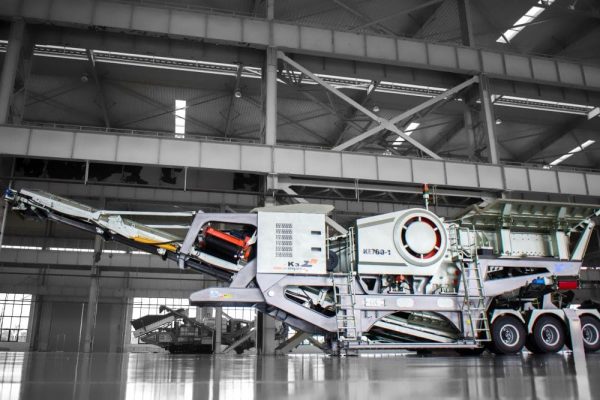 K3 Series Mobile Crushing Plant
K Series Portable Crusher Plant, also known as K Series Portable Crusher, is a new type of equipment developed on the basis of years of independent research and development, combined with the latest user needs. It has been optimized and innovated in structural design, equipment configuration and combined application. Its combination is more flexible, which greatly expands the application fields and truly realizes the close processing of materials.
Material
Most kinds of rocks, metallic ores, and other minerals, such as granite, marble, basalt, iron ore, copper ore, etc.
Application
Popular among aggregates, highway construction, railway construction, airport building and some other industries.
Description
Features
7 Series & 72 Models
K Portable Crusher Plant has 7 series amounting to 72 models, able to cover various mining production needs such as coarse crushing, medium fine crushing, fine crushing and shaping.
Rapid Operation
Compared to fixed lines, K Portable Crushers have a shorter engineering cycle. Besides, there is no demolition after projects finish, more economical and eco-friendly.
Generalized Structure
The generalized structure layout can directly exchange the main machine without changing the body, and meet the crushing and screening requirements of different stages.
Hydraulic Control
All actions are controlled by an intensive hydraulic system. So many adjustments get easier. With centralized lubrication, operators can perform maintenance easily and quickly.
Working Principle
ZENITH's Portable Crusher Plant mainly consists of frame assembly, automobile components, main engine and auxiliaries, power system and hydraulic electronic control system. When moving, the trailer is used to provide traction to drive the frame, relying on the wheels of the frame itself to assist walking. When installing, relying on external power, through hydraulic electronic control system to control hydraulic cylinders and other actions to complete the equipment installation. When working, with external power, motors of hosts and auxiliaries work to drive the equipment to work. After materials are crushed, they are sieved from the silo and transported by the belt conveyor.
Parameters
model
Standard Wiring Equipment for Soft and Hard Rock
Aggregate Properties
Product Line Model
Model 1 Integrated Mobile Equipment (4 models)
Model 2 Coarse Crushing Mobile Equipment (5 models)
Model 3 Medium Crushing Mobile Equipment (8 models)
Model 4 Screening Mobile Equipment (3 models)
Code of Crusher 1 (integrated equipment)
Code of Crusher 2 (coarse crushing)
Code of Crusher 3 (single seat for medium crushing)
Code of Crusher 4 (double seats for medium crushing)
Code of Crusher 5 (screening)
K3T100-4
K3I100-4
K3T150-4
K3E760-1
K3C100-1
K3C110-1
K3CI1213-1C
K3CI1315-1C
K3H300-1
K3CI1213-1
K3CI1315-1
K3V9026-1
K3H300D-2
K3H300V-2
K3CI1213V-2
K3CI1315V-2
K3S1860-1
K3S2160-1
K3S2460-1
Hard Rock (feeding≤430mm)
K3YC-100T
★
Soft Rock (feeding≤430mm)
K3RC-100T
★
Hard Rock (feeding≤430mm)
K3YC-150T
★
Soft Rock (feeding≤430mm)
K3RC-150T
Hard Rock (feeding≤530mm)
K3YC-200T
①
+
+
+
K3YV-200T
①
+
+
+
+
Soft Rock (feeding≤530mm)
K3RC-200T
①
+
+
+
K3RV-200T
①
+
+
+
+
Soft Rock for Construction Waste (Feeding≤400mm)
K3RW-200T
+
+
Hard Rock (feeding≤630mm)
K3YC-300T
+
+
+
+
K3YV-300T
+
+
+
+
++
Soft Rock (feeding≤630mm)
K3RC-300T
+
+
+
K3RV-300T
+
+
++
Soft Rock for Construction Waste (Feeding≤400mm)
K3RW-300T
+
+
1. The capacity listed in this table is calculated according to the pile specific gravity of 1.6t/m3; it is affected by many factors, such as the nature of the material, the composition of the particle size, the working conditions such as feeding and discharging, the moisture content of mud, the loose density and the fragility, etc., so the data in the table will change depending on the specific situation.
2. In the table, ★, + indicates the mobile plant model corresponding to the corresponding capacity level, + + indicates that the number of times the model appears is 2; in the table, ① indicates that it can be used as an alternative to K3C100-1 mobile crusher.
3. The technical parameters involved in this paper are for reference only. Please contact the R & D Center for more mobile solution requirement.