🔍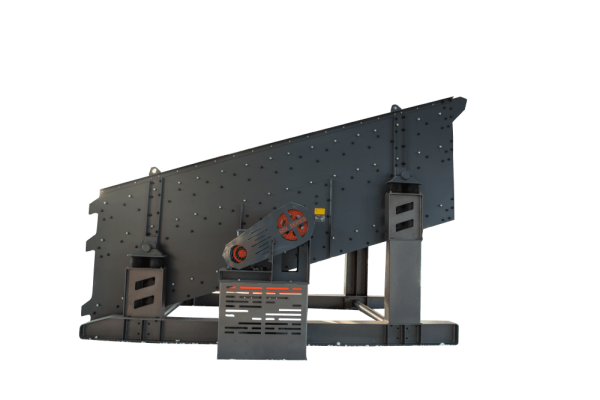 S5X Vibrating Screen
Stronger exciting force, lower noise
S5X Vibrating Screen is of high vibration intensity. Under the same specifications, it has larger processing capacity and higher screening efficiency compared to traditional screens. It is particularly applicable to heavy type, middle type and fine screening operations, and it is the ideal screening equipment for primary crushing, secondary crushing and finished materials.
Materials:Granite, marble, basalt, limestone, quartz, pebble, copper ore, iron ore and so on
Description
Product Advantages
S5X Vibrating Screen adopts the SV super-energy vibration exciter. The vibrating strength can reach the international advanced level.
The vibration exciter and the screen box frame of S5X Vibrating Screen use modular structures. So, it is easier and quicker for later replacement.
The flexible drive device can protect the motor from strong shock and free the torque transmission from the axial force, so the operation is more stable.
The screen is supported by rubber springs which have long service life and strong corrosion resistance, bringing smooth operation, low noise and less impact on the foundation.
Working Principle of S5X Vibrating Screen
S5X Vibrating Screen adopts rubber springs as elastic supporting components and the SV super vibrator as the source of vibration. The excitation force, generated under the rotation of the eccentric block, makes the screen box do reciprocating motions. When the vibrating screen is running, materials continuously bounce and roll over on the inclined screen surface. By repeatedly comparing with the screen holes, materials smaller than the screen size would be sieved out while larger ones retain on the screen surface. This is the whole screening process.
Parameters
| | | | | | | | | | | |
| --- | --- | --- | --- | --- | --- | --- | --- | --- | --- | --- |
| Model | Deck dimension (mm) | Decks | Leaning angle of screen (°) | Top deck max.opening (mm) | Maximum feed size (mm) | Speed (r/min) | Double amplitude (mm) | Capacity (t/h) | Power (kW) | Overall dimension (mm) |
| S5X1545-2 | 1500×4500 | 2 | 18(18-25) | 2-70 | 200 | 800-900 | 7-12 | 45-380 | 11 | 4796×3190×2829 |
| S5X1545-3 | 1500×4500 | 3 | 18(18-25) | 2-70 | 200 | 800-900 | 7-12 | 45-380 | 15 | 4796×3190×3407 |
| S5X1845-2 | 1800×4500 | 2 | 18(18-25) | 2-70 | 200 | 800-900 | 7-12 | 60-450 | 15 | 4797×3490×2853 |
| S5X1845-3 | 1800×4500 | 3 | 18(18-25) | 2-70 | 200 | 800-900 | 7-12 | 60-450 | 22 | 4797×3623×3431 |
| S5X1860-2 | 1800×6000 | 2 | 18(18-25) | 2-70 | 200 | 800-900 | 7-10 | 75-600 | 15 | 6223×3607×3437 |
| S5X1860-3 | 1800×6000 | 3 | 18(18-25) | 2-70 | 200 | 800-900 | 7-12 | 75-600 | 30 | 6223×3648×4016 |
| S5X1860-4 | 1800×6000 | 4 | 18(18-25) | 2-70 | 200 | 800-900 | 7-12 | 75-600 | 37 | 6223×3670×4436 |
| S5X2160-2 | 2100×6000 | 2 | 18(18-25) | 2-70 | 200 | 800-900 | 7-12 | 85-700 | 22 | 6223×3907×3437 |
| S5X2160-3 | 2100×6000 | 3 | 18(18-25) | 2-70 | 200 | 800-900 | 7-12 | 85-700 | 30 | 6223×3948×4016 |
| S5X2160-4 | 2100×6000 | 4 | 18(18-25) | 2-70 | 200 | 800-900 | 7-11 | 85-700 | 37 | 6223×3970×4436 |
| S5X2460-2 | 2400×6000 | 2 | 18(18-25) | 2-70 | 200 | 800-900 | 7-12 | 100-800 | 22 | 6223×4207×3437 |
| S5X2460-3 | 2400×6000 | 3 | 18(18-25) | 2-70 | 200 | 800-900 | 7-11 | 100-800 | 30 | 6223×4248×4016 |
| S5X2460-4 | 2400×6000 | 4 | 18(18-25) | 2-70 | 200 | 800-900 | 7-10 | 100-800 | 37 | 6223×4270×4436 |
| S5X2760-2 | 2700×6000 | 2 | 18(18-25) | 2-70 | 200 | 800-900 | 7-12 | 120-900 | 30 | 6223×4550×3469 |
| S5X2760-3 | 2700×6000 | 3 | 18(18-25) | 2-70 | 200 | 800-900 | 7-11 | 120-900 | 37 | 6223×4570×4038 |
| S5X3072-2 | 3000×7200 | 2 | 20(20-25) | 2-70 | 200 | 800-900 | 7-11 | 150-1200 | 37 | 7277×4820×4238 |
| S5X3075-2T | 3000×7200 | 2 | 20(20-25) | 2-150 | 300 | 800-900 | 7-12 | 180-1800 | 22×2 | 7419×4909×4298 |
| S5X3075-3T | 3000×7200 | 3 | 20(20-25) | 2-150 | 300 | 800-900 | 7-12 | 180-1800 | 30×2 | 7419×4930×5069 |
| S5X3680-2T | 3600×7500 | 2 | 21(20-25) | 2-150 | 300 | 800-900 | 7-12 | 225-2250 | 30×2 | 7923×5540×4267 |
| S5X3680-3T | 3600×7500 | 3 | 20(20-25) | 2-150 | 300 | 800-900 | 7-12 | 225-2250 | 37×2 | 7844×5601×5308 |